On December 3, 2004, the Manitoba Government formally announced that Manigotagan Park Reserve would be permanently protected from development as a Natural Park.

Manigotagan Provincial Park

was designated by regulation 215/2004 on December 1, 2004.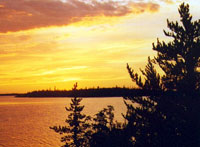 The majority of park lands (roughly 99%) are backcountry land use, however a portion of the park was designated as recreational development to allow for existing mining claims, and is therefore not strictly protected.

Manigotagan Park Reserve was first established in 1997. It has been the subject of intense public education and campaigning by the Manitoba's Western Canada Wilderness Committee to expand the initial 250 metre corridor designated on either side of the river. In response, the Manitoba government expanded and protected the corridor to 750 metres on either side.

Situated near the mouth of the Manigotagan River about 115 kilometers north of Pine Falls, the park is adjacent to the northwest tip of the Nopiming Provincial Park in the Precambrian Boreal Forest of Natural Region 4c. The 7,432 hectare protected area is home to a 750-metre corridor on either side of the river and is home to majestic wildlife including moose, black bears, wolf, caribou and eagles. It is also home to spectacular plant life including prickly pear cactus, Canada yew (the only yew found in Manitoba), elderberry and green ash.

The park will be managed in a manner that recognizes and respects treaty rights and the goals and values of the regional communities. Both the Town of Manigotagan and Hollow Water First Nation gave their consent for protection of Manigotagan River corridor.